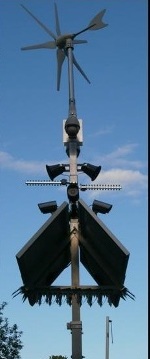 SOLAR AND WIND POWERED TOWER
This is an example of one of our towers for which we hold the intellectual property rights for.
You can see a 500W wind turbine on the top of the tower which can generate 50 amps of power maximum in 1 hour at full capacity.
Two infrared PTZ cameras are at the top of the tower and 4 static cameras with 50m infrared range are just above the two solar panels.
Two loudspeakers which can be heard at 1km distance have microphones underneath them to allow bi-directional communication with the location.
Two 3G and 4G antenna are just below the loud speakers.
Two solar panels are below the static cameras and are used as a back up power source for low wind conditions.